Standing in front of a classroom of third graders, Zach Njus found himself in unfamiliar territory. A graduate student in Electrical and Computer Engineering, Zach didn't grow up wanting to teach third grade and he admits he was never confident speaking in front of a crowd.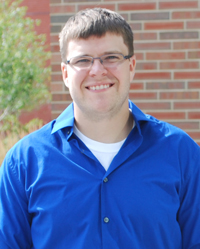 "I was not a fan of public speaking," he said with a laugh.
What was once something to be avoided is now old hat for Zach. As a Trinect Fellow in Samuelson Elementary, he has spent the last few months as part of a teaching triad with cooperating teacher Patricia Williamson and student teacher Emily Foster. This role requires him not only to speak in front of third graders, but also actively engage them in learning about engineering, something your everyday graduate student doesn't have to do.
While his skills in public speaking and teaching are improving, Zach will readily admit that his expertise lies in his scientific background, giving him further insight into the lessons that the triad is using in their Samuelson Elementary classroom.
"I would consider my knowledge a critical piece of the triad," said Zach. "It helps give the teachers an extra boost to ensure they know the material even though they probably never studied engineering in college. When you have an engineer in the classroom, the lesson plans tend to be more realistic."
While Zach is able to extend students' learning about engineering, the students have taught him how to better gauge his audience when relating and communicating with non-technical people of all ages. He has noticed that his choice of words has changed in addition to the way he explains common concepts in engineering.
"You have to be willing to listen. Sometimes things need to be simplified," stated Njus. "There is no class that can prepare you for this."
While the program has had its challenges, it has also had its affirmative moments that remind Zach of the progress that everyone in the triad has made. Overall, Zach describes his experience as a positive one citing the opportunities to work with people outside of engineering.
His work with non-technical people is what led him to one of his most important conclusions as a Fellow. "If your talk is interesting enough to entertain a third grader, it can entertain anyone."