Carolina Bermudez, a Fellow in South Union Elementary School with cooperating teacher Staja Schrek and student teacher Sarah Harmon, has followed a very unique path to becoming a Trinect triad team member.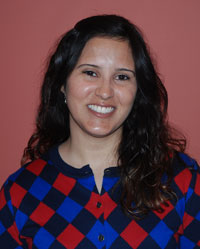 Carolina was raised in Argentina and earned her Bachelor's degree in Agronomy at the Universidad Nacional del Sur in 2008. After graduating, she remained in Argentina to work for Cargill as an Agronomic Advisor using remote sensing to inventory fields planted with corn and/or soybeans.
"I noticed that there were so many things that could be done on the agriculture field using satellite images. I became very interested in the use of remote sensing to improve agriculture."
This interest led her to Iowa State's Department of Agricultural and Biosystems Engineering where her research focuses on developing remote sensing protocols for the detection and inventory of cover crops.
As a Trinect Fellow, her time in the classroom has already created measurable growth both personally and professionally.
"Trying to simplify scientific concepts makes it easier to answer the question 'What do you do with your research?' Before Trinect, I couldn't even really explain it to my mom," said Carolina.
While her ability to communicate her research at Iowa State has been augmented, her appreciation for teachers and their roles in the classroom has also increased. Carolina utilizes her role in the triad to assist the teachers in providing more meaningful engineering lessons.
"I didn't realize that teachers had so much work, but the interaction with the students is my favorite," commented Carolina. "It is very meaningful making connections with students especially when you're helping students to learn about the engineering process.
Helping to teach elementary has been a learning curve no doubt, but the best thing Carolina has learned is how to be a better teacher through collaboration, whether to elementary-aged students or the general public. Her cooperating teacher, Ms. Schrek, echoed the same thoughts about the impact of the Trinect project.
"The Trinect project has been such a motivation to me as an educator to have the ability to collaborate with two other professionals. We find ourselves excited thinking and planning…to incorporate all areas of STEM based on our combined experiences. The project has enriched the lives of our students as well as each one of us adults."