On October 23, cooperating teachers and students teachers came together at a Des Moines Elementary School as part of a mid-semester professional development day. Kristina Tank, Anne Estapa, and Joanne Olson led the meeting that provided teachers a chance to reconvene following the Summer Institute in early August. The workshop provided opportunities for communication between teachers and staff in the form of new content and discussion, as well as an opportunity to share lessons between teachers. The day-long seminar was structured into three parts: a model engineering lesson, a review of the article "Minding Design Missteps", and an information sharing and planning session between the teachers.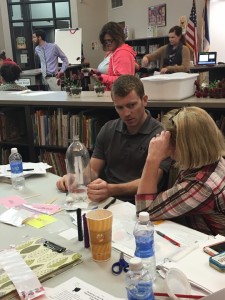 As part of the model engineering lesson, teachers interacted with a lesson that required the creation of systems that could successfully transport plants without damaging them. Following the engineering design process, teachers were required to identify the problem, imagine possible solutions, plan an initial design, create a prototype, and improve their design as needed while taking into account cost restraints and the functionality of their design. The lesson activity allowed dialogue between program leaders and the teachers of Trinect triads on how to improve lesson implementation while addressing the needs of students throughout their application.
After the model lesson, teachers were introduced to "Minding Design Missteps: A watch list of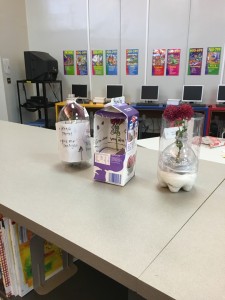 misconceptions for beginning designers." This article offered insights into the nature of design tasks, the habits that many beginning designers fall prey to, as well as additional resources to assist teachers with the incorporation of engineering design into their classrooms.  The article, published by the National Science Teachers Association's Science & Children magazine, is available here.
The day concluded with a discussion session between the teachers. Cooperating teachers and students teachers separated into two groups accordingly and shared information with each other about practices that they find to be working well in the classroom. The two groups then came back together as a whole and collaborated to share the information discussed with each other. Teachers ended the day focusing on enhancing future science units with rich math and engineering concepts.